Avaya IP 500 v2 Basics (Newbie needs help to configure and old system)
Avaya IP 500 v2 Basics (Newbie needs help to configure and old system)
Hi All,
My first post on this forum and a newbie question so go easy on me :).
I have an Avaya IP 500v2 that I have inherited from the previous IT Administrator. We have moved to new offices and now I have to configure and set this up. I have never seen an Avaya system in my whole life before. There are no user manuals, no Avaya handsets, no instructions or any sort of documentation or labeling done. So far, I have been able to figure out the following:
Power on the system and connect to the LAN port with an IP address
Able to make changes to the configuration using the Avaya GUI after resetting the system to factory defaults.
Plug in 2 x phones and able to make and receive calls to extension 201 and 202 between the two phones.
I have standard push button legacy phones and can access the Avaya software on my PC to make
I have attached two pictures as well. What I need to find out is the following:
There are two modules as you can see from the front of the unit. One with 4 x RJ45 ports and the second with 12 x RJ45 ports. What are both of these for?
I have been able to use the second module with 12 x RJ45 ports where I can make and receive calls in only port 1 and 2. What are the other ports for?
I would like to receive incoming calls from my service providers number. I can see in the software on the PC where the call routing can be done by can't figure out which port or module I need to plug in my service providers PSTN connection.
I forgot what license I have but I can provide that information if required. For the time being, I can only use the PSTN ports but in the future, I would like to use the soft phone and the AVAYA handsets as well. Do I need to purchase a license for those as well or is there a certain number of limited options that would be available for me to use out of the box.
Another thing that I noticed was that if I plug the service providers pstn cable in the two lower ports of the 4 x port module (port 10 and 12 I think), I am able to ring the landline number from my mobile and it goes in voicemail after 10 rings. But if I plug it in the top two ports (9 and 10) then the call goes straight to my service provider's voicemail system. This tells me that there is some sort of configuration done on those two ports which is bouncing it to the voicemail. Any ideas what that could be?
The second picture is a daughter card that was on the 4 x port module when I opened it.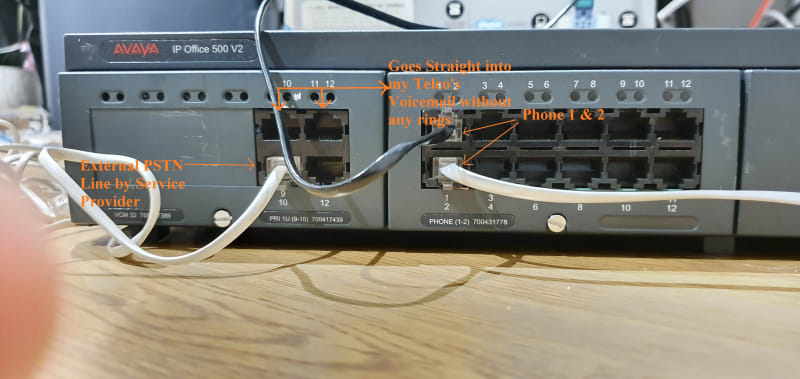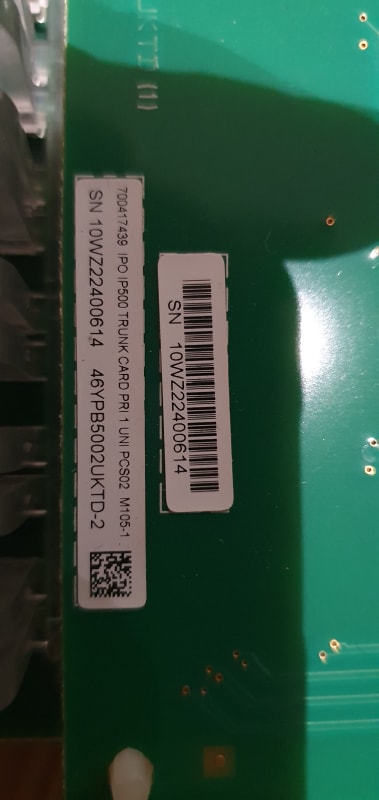 Thanks for any assistance if anyone is knowledgeable about these systems.