ASCBE Server Profile for Remote Workers Questions
ASCBE Server Profile for Remote Workers Questions
Hello all.
I am on the step of configuring the ASBCE for Remote workers and the manual states to:
1. Go to Global Profiles > Server Configuration.
The above is not a menu option on my SBCE, assuming an older version that is documented. I just want to confirm I am in the correct spot for this step: Services > SIP Servers

2. Click Add.
3. Enter a Profile Name. This name is used to select the profile in server routing and server
flow entries that need creating. Click Next.
a. Set the Server Type to Call Server.
b. Enter the details for the layer 4 port SIP connections set in the IP Office configuration .
For this example we are using TLS on port 5061 for the external extensions. Click
Next.
4. Authentication is not needed on the ASBCE to IP Office connection, click Next.
5. Heartbeat is not needed, click Next.
6. Adjust the advanced settings as follows:
a. Clear Enable Grooming checkbox. Grooming is not recommended for SIP extension
connections.
b. Set Interworking Profile to avaya-ru.
7. Click Finish.
Some information has been left out. Like the SIP Domain. Should that be our Company Domain, or FQDN?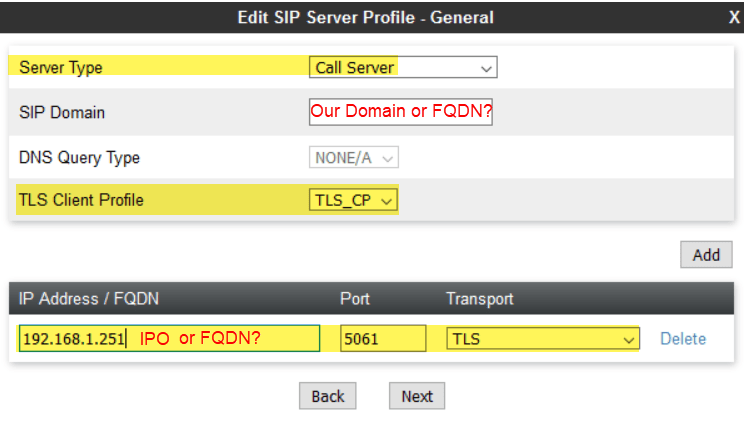 ACSS