Does anyone ever see this error in
Does anyone ever see this error in
Does anyone ever see this error in Outlook?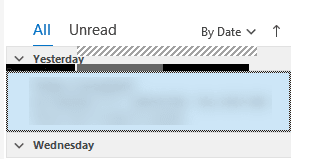 It shows the diagonal bar rectangle there above and to the right of the word "Yesterday", and it shows the three dark rectangles directly below Yesterday and above the email item.
I have not switched to the new version of Outlook yet because it reorders my folders and I don't see a way to restore them to the order I had them in without re-creating them in the order I want.
It pops up once every couple of months, and sometimes multiple times per day. Closing Outlook and restarting it fixes it. Sometimes switching to calendar and back fixes it, but not always.
--
Rick C. Hodgin