Create report for each record in a datasheet subform
Create report for each record in a datasheet subform
My Pick List form has a combo to select a delivery date.
This is used to show all orders due for delivery on this date in a the top datasheet subform. Stepping down through this datasheet shows all of the current order's items in a second Datasheet subform, sfmPickListBarcodes.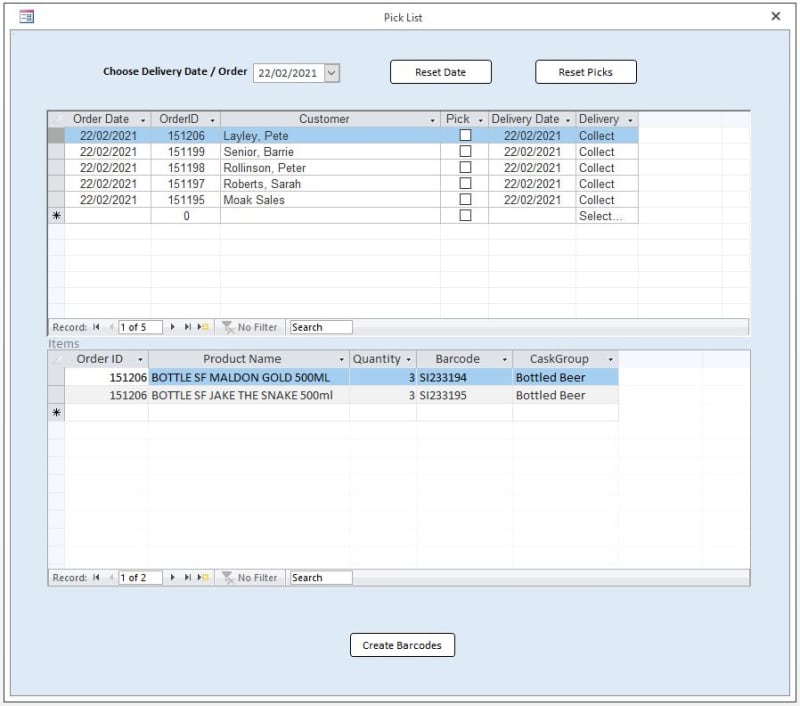 I now want to create labels for items in the currently selected order, extracting their Product Names, Quantities and Barcodes that contain 'SI' and the OrderItemID.
So for OrderID 151206 I want the report to generate 3 labels showing Maldon Gold, SI233194, and 2 showing Jake, SI233195.
As a test I tried using this for the Command Button
CODE -->
With Forms!frmPickList.sfmPickListBarcodes.Form.RecordsetClone
        .MoveFirst
        Do Until .EOF
        Debug.Print sfmPickListBarcodes.Form.ProductName
        Debug.Print sfmPickListBarcodes.Form.Quantity
        .MoveNext
        Loop
        End With 
But this just repeated the name and quantity for the first row, not moving to the second.