Multiple WiNG Zebra Access Points with possible issue
Multiple WiNG Zebra Access Points with possible issue
DrB0b
(IS/IT--Management)
(OP)
Hello all,
We had a roaming wifi setup previously and replaced it with this WiNG Zebra setup. We have 9 APs in play spanning 2 warehouses. There was a site survey completed before the old system was set up so we knew where about to install all of the APs. I installed the new system and replaced the APs with the new ones about 6 months ago. My main question is, how should the channeling be done? Should they all be on separate channels? Should they all be on the same channel? Should they all be on channels 1,7, and 11 but kind of alternate them?
The reason I am asking is that we seem to have random connectivity issues with certain handheld devices. There seems to be one spot in particular where a couple of the handhelds will lose connectivity for a minute but other handhelds work fine. The "temporary dead spot" has two APs very close to it and both signals would overlap at that spot. Not sure if we are dealing with a Roaming issue, a channel issue, a noise issue, or what exactly. Here is a map of our layout. The "Server Closet" AP is the main AP that all the others report to.
Thoughts? Ideas? Questions? Did I post this in the wrong section?
Thanks all.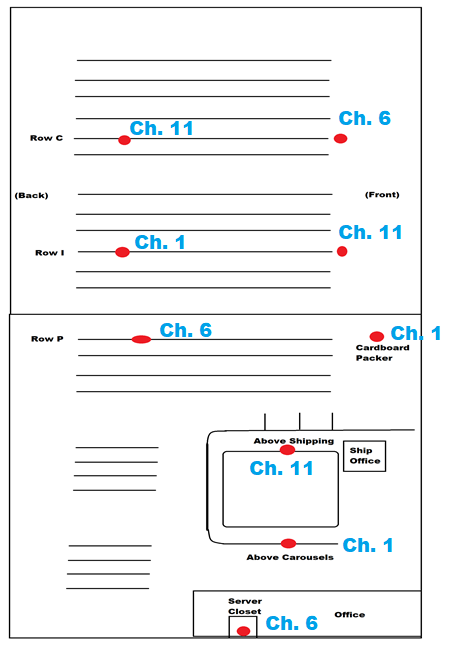 Learning - A never ending quest for knowledge usually attained by being thrown in a situation and told to fix it NOW.