Excel - Add new row/increment
Excel - Add new row/increment
Hello,
I'm looking for a macro that will automatically add a new row(s) based upon values being presented in a set of columns/rows, when the macro button is clicked after pasting the information in the cell ranges. I have a set amount of columns that data can be pasted into. The range of data can vary between 10-40 rows per column. The information being pasted in these cells will duplicate to other cells. For example:
Columns E, F, G and H is where the information will be pasted. The amount of data being pasted in each of these columns will vary. Once the information is pasted, each cell will duplicate 4 times to the first set of columns (A, B, C and D). It will look like the following: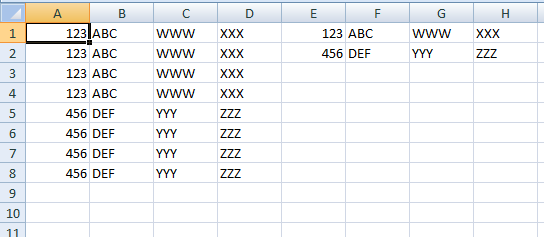 I would like to increment each line in columns A, B, C and D based upon how much is pasted into the other 4 columns. So if there was another row of information pasted in the E/F/G/H cells, another line would increment and add 4 duplicates of each into the A/B/C/D column/rows.
If any of you Excel experts could help me get a macro that can do this it would be much appreciated. I'm trying to figured this out myself, but kind of stuck on how to do this. TIA!
Enkrypted
A+