Fatal Error: C0000094 on Windows 10 PC
Fatal Error: C0000094 on Windows 10 PC
Hi, I have over 300 users across the country using my app on all flavours of Windows without issue but this one has me flummoxed.
The app is quite a big SQL base client server compiled exe built in VFP9 SP2.
I have one client who's PC's are all Windows 10 and their installations are no different to anybody elses with a standard VFP9 runtime libraries, Windows Common Controls and a few other dependables for various features in the system.
The system has been running fine for some months and then recently they started to get Fatal Exceptions not when launching the app but when they try and open a form within the app after log in.
If I reinstall the app it works again for a short while (few days) then starts to crash again.
Logic implies it's a conflict with another app using a shared resource that is changing when that application is run that then upsets VFP but I'm guessing.. No other sites have the issue. This is the Error: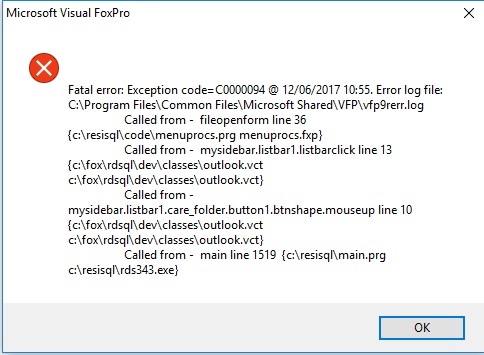 Anyone any clues?
Bob Palmer
www.resisystems.co.uk
The most common solution is H2O!