IPv6 for small ISP out of IPv4 Addresses
IPv6 for small ISP out of IPv4 Addresses
First off, thank you all for your response...
Here is our predicament:
We are a small ISP (3 Class /24s) and we are almost out (90% subscribed) of IPv4 addresses. We only provide to businesses, most of which require an static external IP address. Our upstream providers are out of IPv4 addresses as well.
We have been allocated an IPv6 subnet from ARIN and have played around with it and can get to the IPv6 internet.
Basic diagram of what we are looking to do is the following pictured below: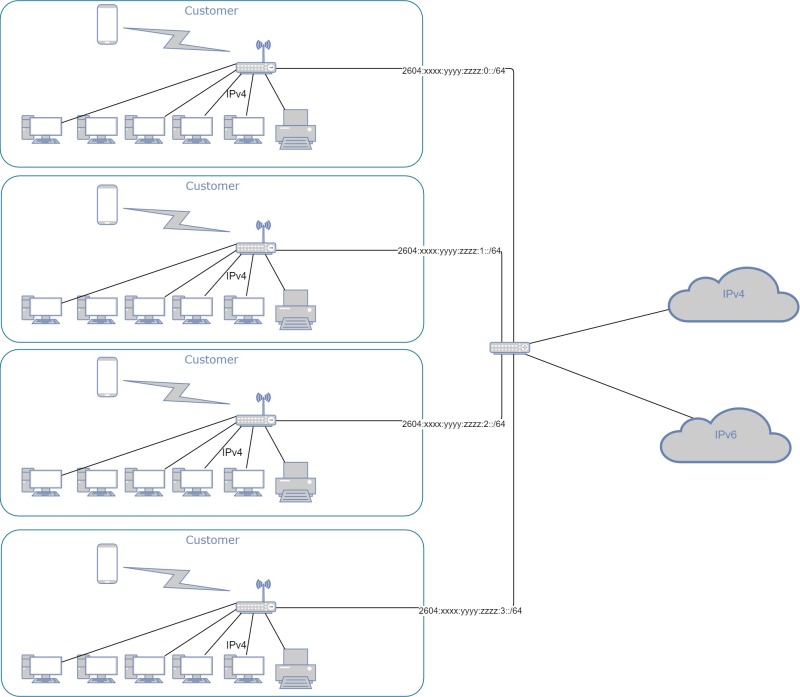 We want to hand off an external IPv6 subnet /64 to our customers but still let them have access to the IPv4 internet. We also want to make sure that our clients don't have to worry about their internal addressing scheme.
What is our best option? We've done research into 6rd, NAT64 and NAT46 but we're still not sure what the best one is.
Thanks Again