Print Duplicate Invoice (No data which meets the current criteria)
Print Duplicate Invoice (No data which meets the current criteria)
In a previous question I asked, I was given some instructions for fixing an invoice stuck in limbo.
Quote (Peter Shirley)

If you run the pre-post invoice register after everything has posted, then the 'stuck' order/invoice should show there and you will often be able to tell why. The most common reasons are duplicate invoice number and invalid GL accounts. Looking at your list of tables that the order/invoice exists in, it is not partially posted so you should be able to correct it by doing the following;

1). Print the invoice again (by enabling the print duplicates check box).
2). Respond NO when asked if the invoice printed OK.
3). Unselect the order.
4). Review the order and make any required changes.
5). Print the order.
6). Post the order.

Note that the steps above will assign a new invoice number.

When trying to do this for another order, I get "No data which meets the criteria entered". So from OE & RMA screen, I chose Invoices>Print Invoices. Then i pick the order number from the order header file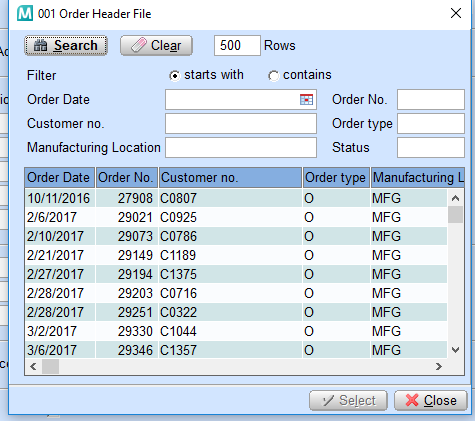 And when I click start I get the error mentioned. The status on this particular order is 8.
Any assistance is greatly appreciated.