Passing Parameters via Action Go To URL
Passing Parameters via Action Go To URL
I am trying to pass a parameter from one report to another. I will be passing a YYYYMM from one report to another. In the first report, you choose your 'beginPeriod', in the format YYYYMM and view report. In the report is a link to a second report. In the second report, there is also a beginPeriod. When the 2nd report is accessed, it should automatically run using the passed YYYYMM. AND there should be a parameter window with the YYYYMM filled in, but you should have the option to change it and run again.
report 1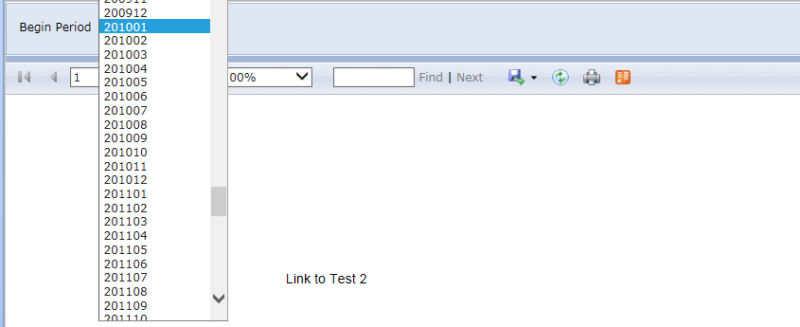 The gotoURL link looks like this: ="
http://xxxxxxxxxxxxxxx/Pages/Report.aspx?ItemPath=...
=" & Parameters!beginPeriod.Value
When you click the link, the URL in the address bar is
http://xxxxxxxxxxxx/Pages/Report.aspx?ItemPath=%2f...
So the parameter is passing correct.
But the report is not running, because the beginPeriod parameter in report 2 just shows this:

The passed value is definitely one of the available values in the dropdown on the 2nd report. Is there a way to get the 2nd report to default to the passed value and execute?